For those of you who dated pre and post Tinder, you know that things changed massively when people could just swipe right and find a million other options. One thing didn't change though – dating could suck before, and it can still suck now.
Instead of finding dates through mutual friends, we end up going out with strangers based on how somebody randomly answered our questions, then sitting across the table from people we don't know at all, without any idea whether we like them that much.
I mean, how do we end up knowing less about a person despite having talked to them beforehand?!
Imgur user minilogo37 learned all of this the hard way. Because very soon into a Tinder date, he discovered that his "match" was just using him for dinner and drinks.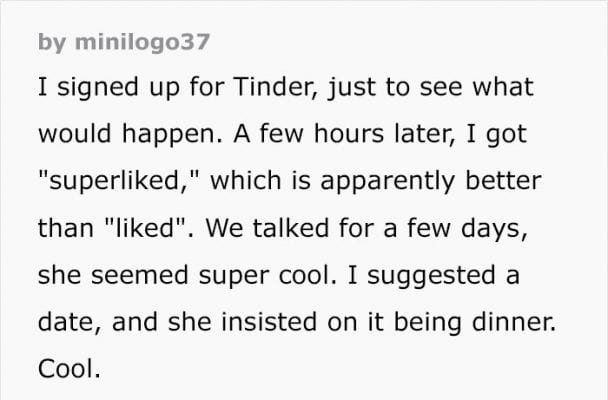 You can see where this is going, right?
Date orders the most expensive things on the menu.
No attempt at conversation.
Straight up scam city.
But minilogo37 didn't take it lying down.
He fought back.

Boom.
Commenters were quick to praise him for his response to this nasty situation:
Also, this being the internet, people had other solutions for avoiding this kind of situation:
And yeah, some thought OP was a d%ck…
What say you? Did she deserve it? Should he have stayed and paid?